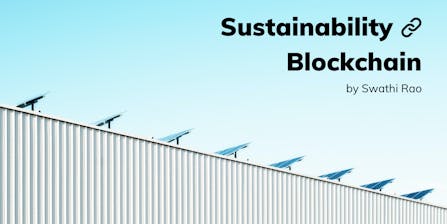 by Swathi Rao
Blockchain and Sustainability
Aug 16, 2022
The transition to a low-carbon future requires a visionary reassessment of infrastructure systems and services, from their interaction with consumers through planning, procurement, financing, construction, and operations. Embracing new technologies that enable drastic reductions in greenhouse gas (GHG) emissions will be crucial to a successful transition. Emerging distributed ledger technologies (DLT), such as blockchain, have the potential to improve current processes and systems by acting as a digital enabler across the infrastructure value chain.
The power of decentralized networks also lies in their transparency. On a blockchain, every transaction is verified by multiple parties, and no one can edit the data without alerting the entire network. Unlike the algorithms of big tech – which are kept secret and constantly changing – blockchain contracts are public, as are the laws around who can change them and how. The result is a tamper-proof, transparent system that famously earned blockchain its reputation as 'the trust machine'.
Today, we cannot afford to ignore blockchain's growing carbon footprint. However, with ambitious changes to both the volume and the type of energy the technology uses, we could soon unleash a tool with the power to incentivize social and environmental progress at scale. There's also a conscious drive amongst the crypto community to address the type of energy being consumed which is why the newly launched Crypto Climate Accord — including Ripple, World Economic Forum, Coin Shares and Energy Web Foundation — announced its goal for all of the world's blockchains to be powered by 100% renewables by 2025.
Other options include using inherently low-carbon technologies, like the XRP Ledger, that don't rely on proof-of-work (which involves mining) to help significantly reduce emissions for blockchains and crypto finance. Proof-of-work systems are inefficient by design and, as such, will always require more energy to maintain forward progress.
The XRP Ledger is carbon-neutral and uses a validation and security algorithm called Federated Consensus that is approximately 120,000 times more energy-efficient than proof-of-work. Ethereum, the second largest blockchain, is transitioning off proof-of-work to a much less energy-intensive validation mechanism called proof-of-stake, which will reduce energy consumption by 90%.
There are sustainable Blockchain applications for sustainable aquaculture and fish farming, that track distribution, make fish traceable and provide evidence of the companies' ecological responsibility.
Monitoring the supply chain makes it possible to identify inferior products earlier in the process. The extent of recalls and new production can thus be reduced, which positively affects the greenhouse gas balance and other resources.
Another promising energy technology well suited to the blockchain is person-to-person (P2P) electricity trading. These energy sharing schemes provide electricity suppliers and consumers with the opportunity to trade energy without the need for existing third-party intermediaries while increasing the level of renewable energy.
Some companies have proposed a solar farm in the Mojave Desert to furnish a majority of their electrical usage. An Israeli startup has developed a way to reduce the carbon impact of Ethereum mining and transactions by packing more information into each block of the blockchain. The company's approach reduces energy consumption by anywhere from 200 to 200,000 times. After their last round of funding, the startup is valued at a whopping $2 billion proving that investors are interested in funding renewable methods to take blockchain forward.
AuditOne.io  is a marketplace where we encourage freelancers and companies to work hand in hand to create solutions to make the technology a better part of the carbon-conscious world we are striving to be today.  
In other words, blockchain has a long way to go in the sustainable energy space, but isn't consistent innovation on a technology that stands to change the world for the better a more holistic way to look at sustainability rather than eliminate it?